Oh happy dayyyyyyy!! So, yes, it's Thursday which usually only means one thing: the weekly Saw it. Pinned it. Did it. link up is here! (It also means I drank way to much wine concocting my project this week.)
Annnd it also means I have some VERY VERY VERY exciting news tomorrow!!
(Come back, ya heard!?)
If you're new around these parts, you should know that every Thursday,
Katie
& I host a link up where you post your most recent Pinterest project. After pinning 1,534 pins and not doing a single one, I figured I needed to do something about it so...I did and this link up was born. Whether it's a hair style, an outfit inspiration, a DIY project or even a Pinterest fail (because we all know it's inevitable)...tell us about it and link up!
Those of you who aren't new to the linkup and have been keeping up with us week after week, stop rocking my socks off, would ya? Ok no. Don't. ;) I am
thoroughly
impressed with all of y'all's projects!!
So today's Pinterest project may or may not be the simplest thing ever. BUT. It still counts because, well,
I saw it. I pinned it. I did it.
;)
And if you know me by now, you know darn good and well that I don't do
any
type of project that requires more than 10 ingredients and more than an hour to do.
Moving right along...
With recently moving into our new neighborhood, I have been racking my mind for something to give to our new neighbors as a way of meeting and introducing ourselves. I actually got my inspiration from two different pins and then made it my own.
What you'll need:
Mini plant (I chose succulents...duh)
Small tin bucket
Twine
Paper (to print labels)
Wine (*NOT optional)
Remove your plant from it's original container, careful to not rip apart it's root system.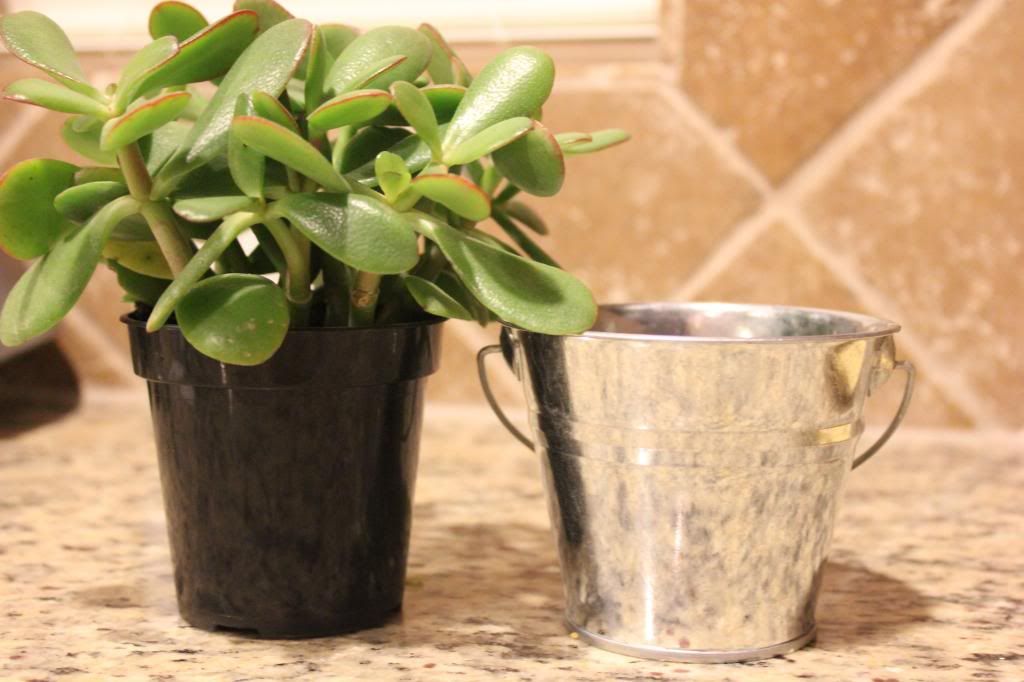 Place it in your little bucket and add extra soil if needed.
(AKA: go dig some out of your neighbors yard.)
"Hey neighbor! Nice to meetcha! Here's yer plant! Oh-and I borrowed some of your soil for YOUR gift. Hope ya don't mind?!"
Ha.
Download
these FREE printables
and use
Picmonkey
to add your name to them.(Or if you prefer to not use Picmonkey, you could always just handwrite your names, too.) Print out each label and glue it to a piece of thicker cardstock. (I chose a cardboard color.)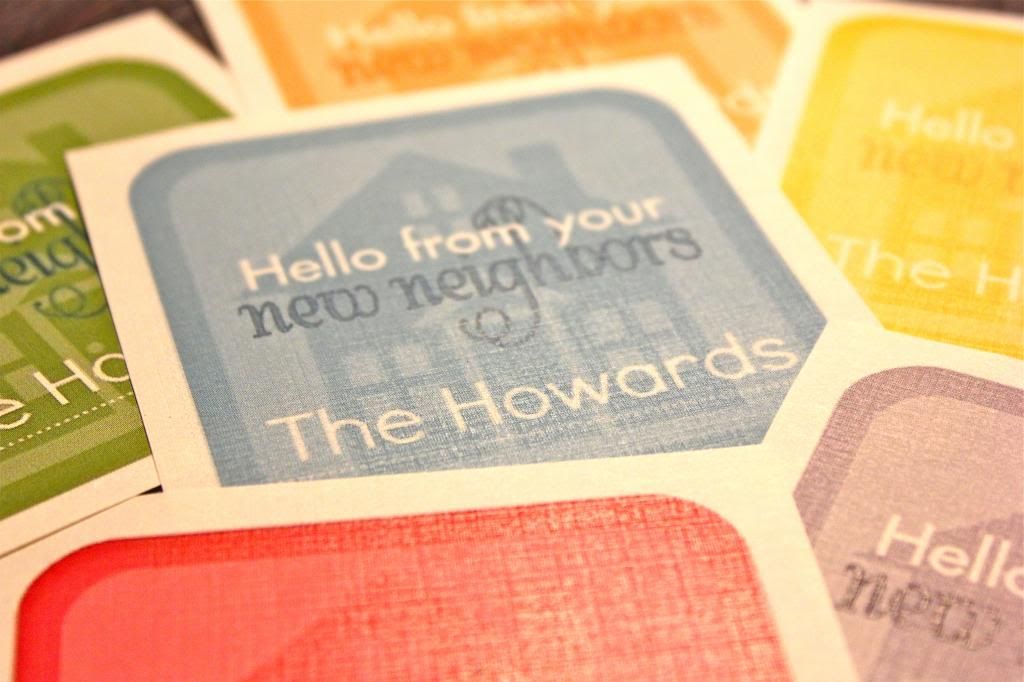 Punch two holes along the top of the label, wrap your twine around the top of the bucket and then lace it through the two holes. Tie in a bow.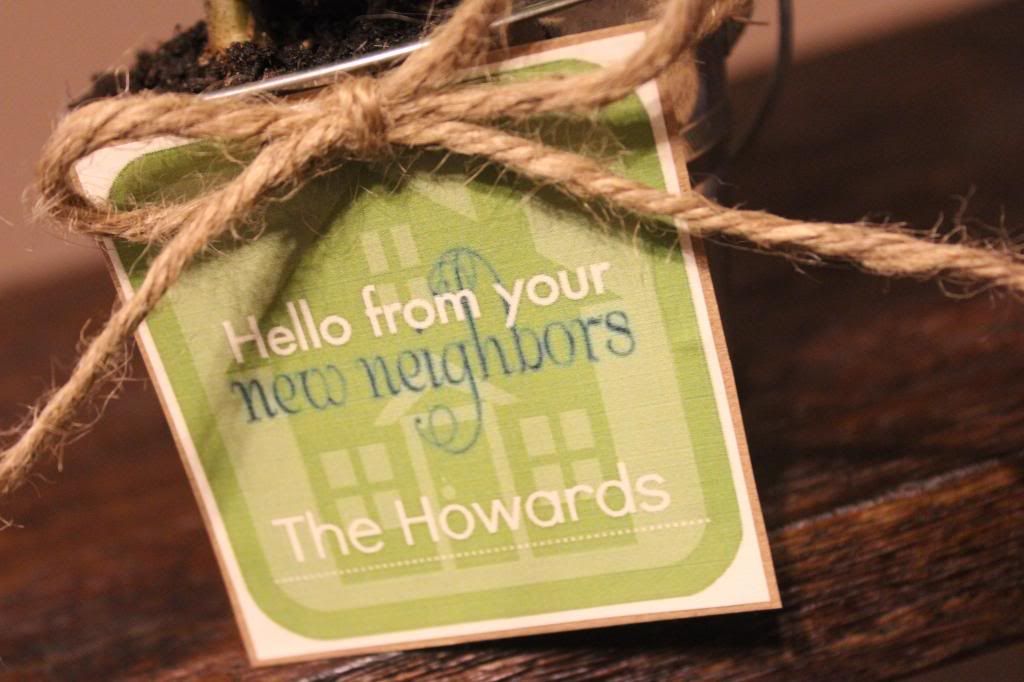 BAM.
Masterpiece!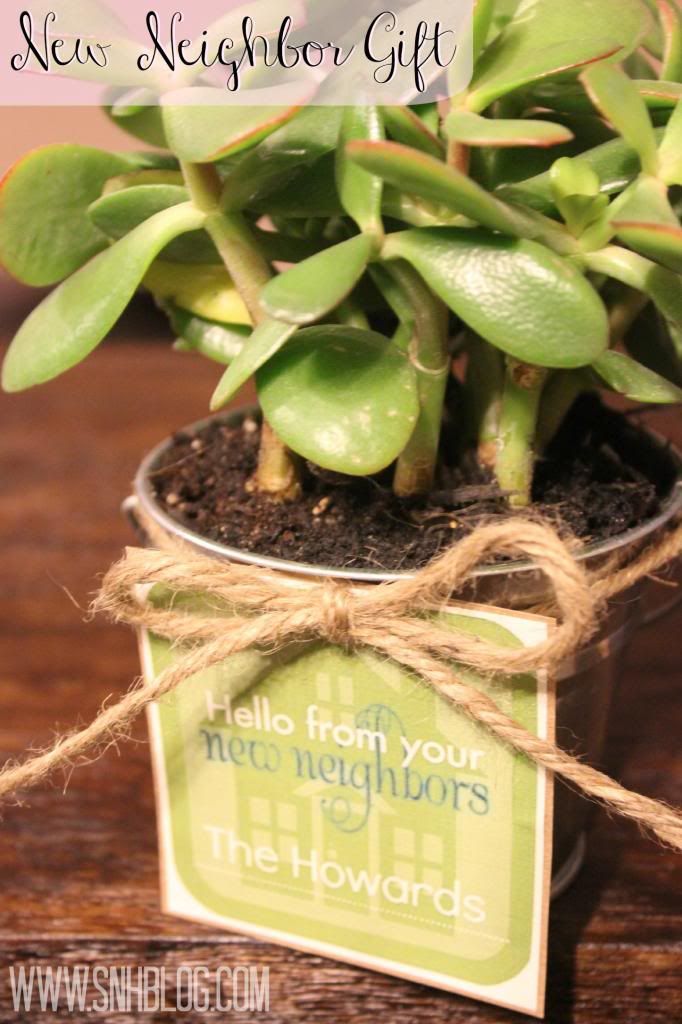 Total cost: <$5
Total prep time: 15 minutes (to edit and cut out labels and twine)
Total project time: 5 minutes each

Better than cookies.
Better than candy.
Not as degrading as a $3 bottle of wine. (Yes...that was my original idea.)
I'm so excited to go hand these out to our new neighbors and meet them!! I hear the people a few doors down are GM's at the local 24 Hour Fitness. Hells. Yes. Two plants for them...

***
Alright kiddos, here's the drill:
Link up using the linky tool below so everyone else can see what you've created!
Link back to
Katie
and I's blogs in your post so other people can know about the link up!
Include the button below by pasting the HTML into your post. Pwetty please?
And if you haven't linked up with us yet, what the HAY are you waiting for?!
All the cool kids are doing it! ;)