WHEW!
What. A. Weekend, y'all! Without recapping every single move I made (#boring), let's just say mine lasted Friday - Wednesday and to be perfectly honest, it was fan-freaking-tastic and consisted of not a single hangover. Hallelujah!
More 5 day weekends?
Less hangovers?
Yes, please!

This goes without saying I hope everyone had a happy, safe and hangover-free New Year's weekend! Cheers to a brand spankin' new year!
Anywho-while my
partner-in-crime
is out somewhere being a snow bunny (that jerk!), I promise I'll try to be today's hostess with the mostess! (However, I'll let you be the judge of that.) For those of you who are new or are visiting from Katie's blog, welcome! So glad to have you today for the very first Saw it. Pinned it. Did it. link up of 2013!! (Is it just me or does writing/typing a new year always take a while to get the hang of? No. Mmmmkay good.)

Moving right along...


So one of my absolute FAVORITE things about Christmas is giving and receiving Christmas cards. (Preferably the receiving part, but maybe that's just because I'm selfish.) However, once Christmas is over and all the decor starts to come down, I never know what to do with them and believe you me I'm not throwing those suckers away!
Oh. Hey there new kitchen!
(Full home tour coming soon....errrr-eventually!)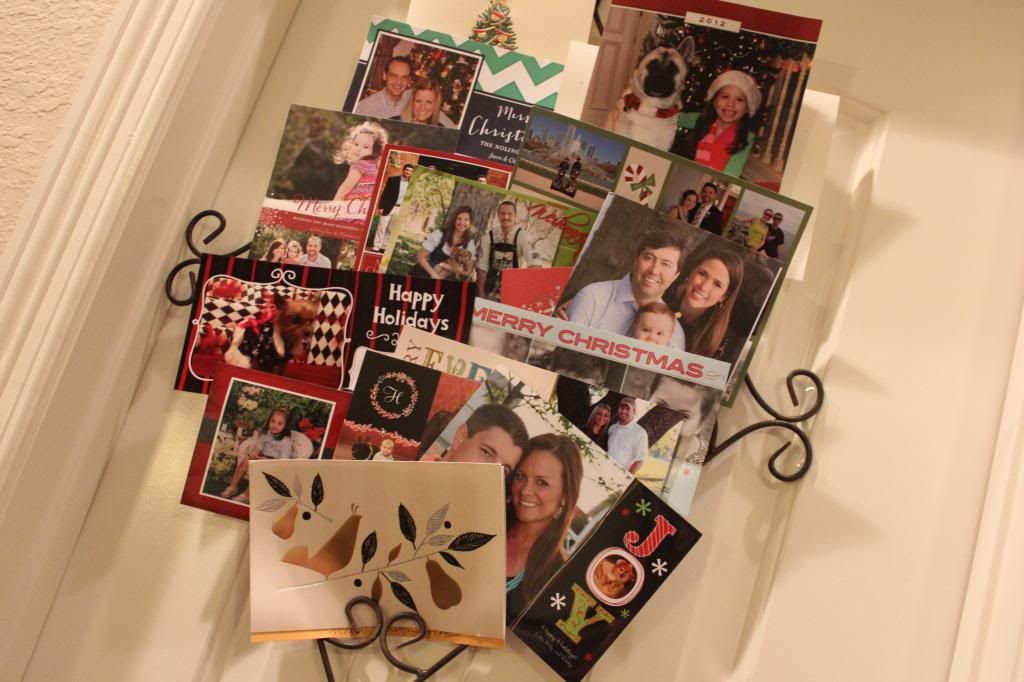 Enter: the pin that changed it all...
via
BAM. (Obviously you can use this idea for other cards, like weddings, but Christmas cards were more timely so I went with it.)
And here's mine:
Here's what you'll need:
A good ol' stack of Christmas cards (preferably the kind that come with adorable babies on the front)
Hole puncher
Twine (or ribbon)
Scissors
Two pieces of cardboard (cut out the same size as your biggest card)
Paint/paintbrush
Mod Podge
Punch holes in your stack of cards and lace a piece of twine through them. I did two holes along the top/sides of each card but I've seen it where you can do one hole in the top left corner. Either way, make sure all your holes are lined up or it won't work out right!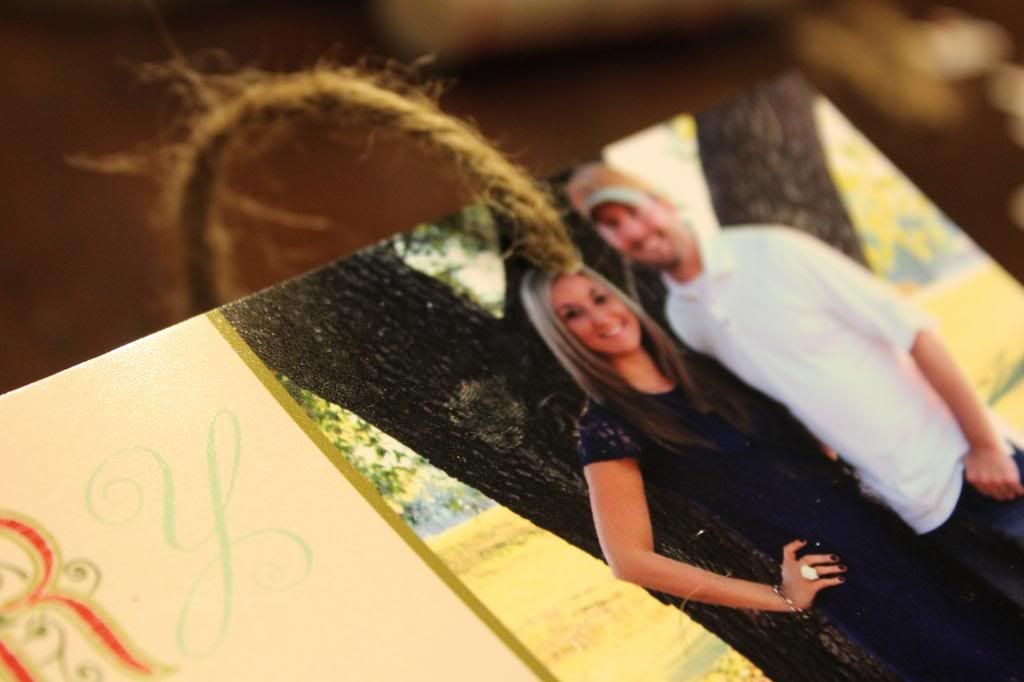 Next, use your paint to coat one side of each piece of cardboard. (This will be your front and back covers so make sure you go all out and date it so you know which year your book is from.) I wanted mine to look a little "unfinished" so I just used a cream coat of paint, avoiding the sides. I used some old red cardstock I had lying around and cut out the words that were on our Christmas card from this year. For the back, I used a heart stamp and wrote in the date with a red sharpie.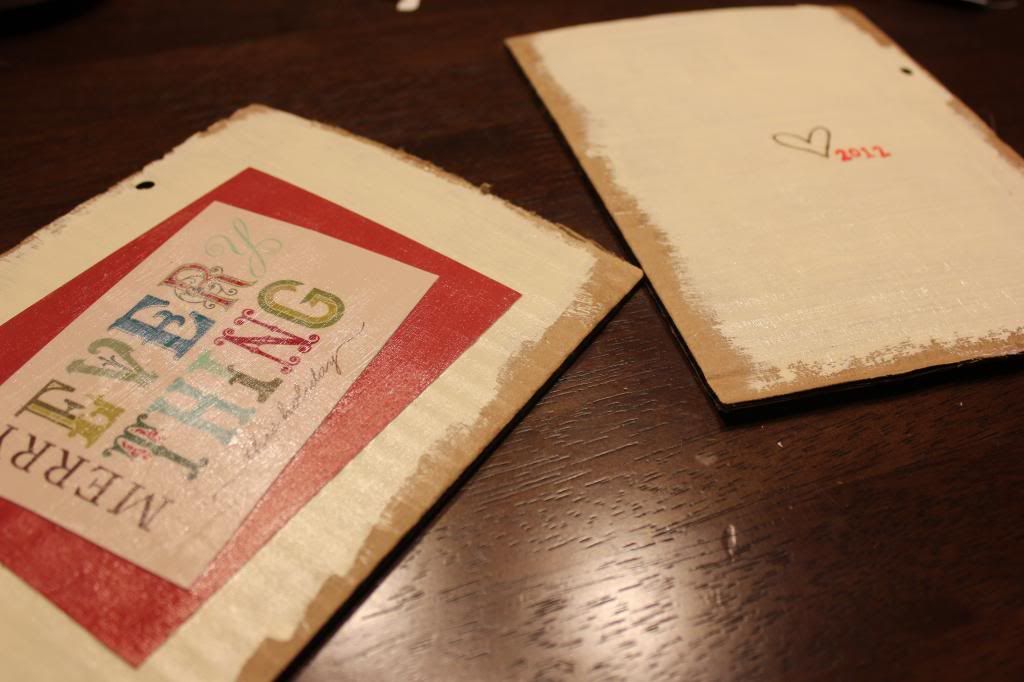 Once you've spruced up your cardboard pieces, coat them in mod podge. I did one coat vertical, let it dry, and then applied a second coat going horizontally.
After it dries, place them on the front and back of your stack of hole-punched cards, lace the twine through the holes and tie it off with a pretty little bow!
Aaaand if you're anything like me, you'll keep it out for a few weeks before you pack it up so you can still try to pretend it's the holidays. (When you DO pack it up, make sure you pack it with the rest of your Christmas decor so you remember to bust it out the following year! Makes for a great coffee table book and is so fun to see how everyone changes in just one year!)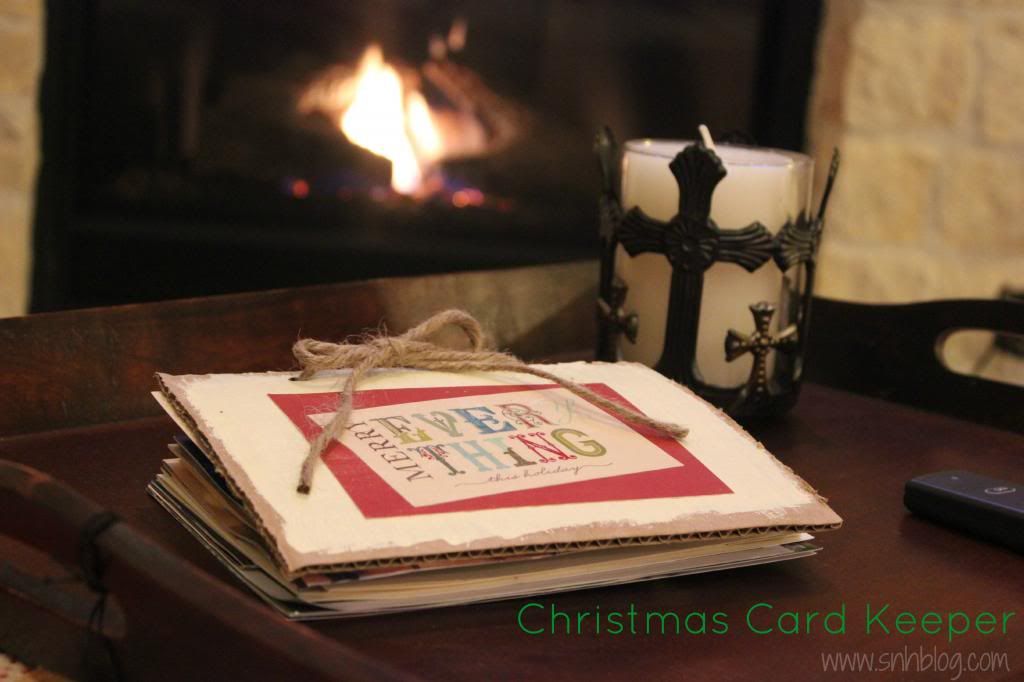 How do you savor your Christmas cards each year?! Link up with us and let us know!
Here's the drill:
Link up using the linky tool below so everyone else can see what you've created!
Link back to
Katie
and I's blogs in your post so other people can know about the link up!
Include the button below by pasting the HTML into your post. Pwetty please?
And if you haven't linked up with us yet, what the HAY are you waiting for?!