Ok-not really.
Just wanted to tell all you lovers that whether you're single, engaged, married, divorced or none of the above
(whatever that means?)
I sure do hope you have the
sweetest
Valentine's Day ever!
(We
did
really see this on the beach one day and needless to say, Beau is now in the dog house.
Where the hell were my hot pink wooden cut out letters when HE popped the question??!!
)
Anyhoo-I hope your day is as full as love as my heart is for this guy (obvi):
...and of course...
this girl
...
Big fat blogger love-fest is my only way of putting it.
(In a complete NON-lesbianic way, of course)
...but more on our trip later...(promise)
For today, you're in for a real treat. No lie.
***
Hey all you Beautiful Mess lovers! I'm Raven from
A Momma's Desires and Pacifiers
. Don't ya'll just
love
Stephanie? Talk about a total girls girl AND a total guys girl. I know for sure if we lived in the same 'hood, we would totally be homies.
While Steph is away with the beautiful
Katie
galavanting around the Florida beaches, she asked me to share a story of me meeting a blogger for the first time. I have only met one blogger so far (
so far
...wink wink) but that one time was a pretty awesome experience. See, I met up with the gorgeous Sabrina from
Sabrina Says
. And it wasn't just a coffee blate. No, she stayed two nights and three days with me.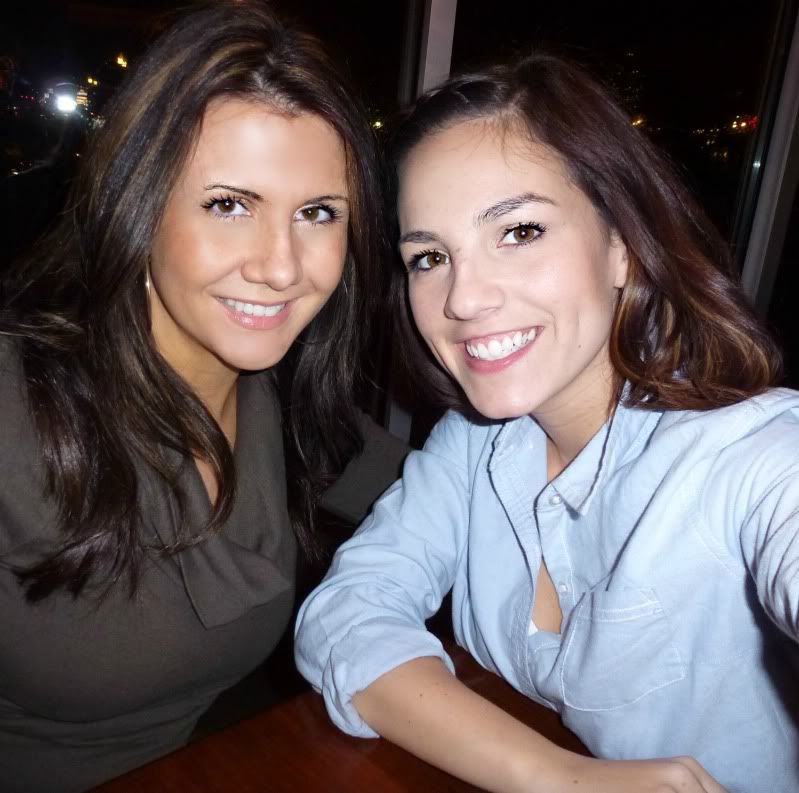 (that's me on the left, Sabrina on the right)
Guys, we had so much fun. And we didn't even really
do
anything. I have two young kids so it wasn't like we could go out on the town partying 'til the wee hours of the morning, so instead, we stayed home and partied 'til the wee hours of the morning. Drinking wine, playing Pictionary with my family (yes, she met my entire family almost when she came to stay with me) and just visiting. Talking. Staying up late on the couch after everyone went to bed, sipping on our wine and watching funny youtube videos. Coffee and bagels in the morning. Lounging, playing with my kids. It was so fun and so easy, which to me, is the ultimate sign of a successful friendship. Things just being
easy
.
We did go out by ourselves one afternoon, to go "shopping." Which ended up with us planting our bums at the mexican restaurant at the mall and indulging in some cocktails and chips and salsa.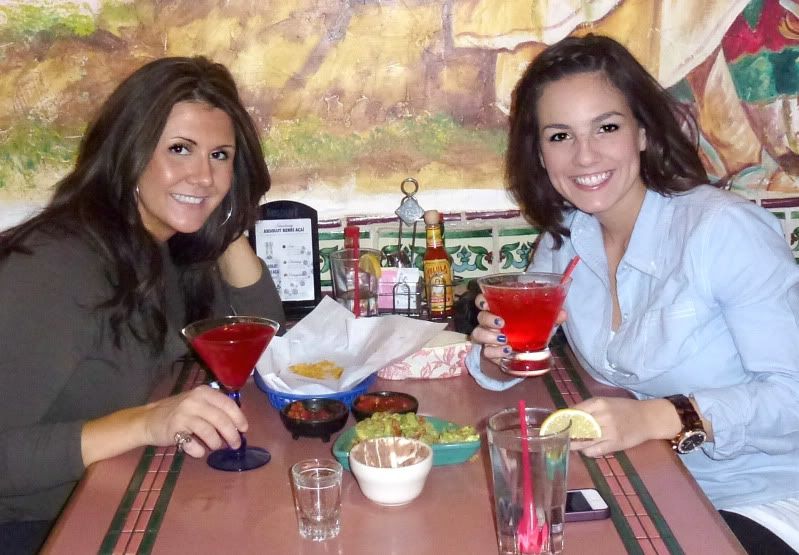 Her visit was over the Holidays, so Santa was in town. It was my genius idea for us to get our photo taken with him. BAD IDEA. If you want to know exactly why it was a bad idea, you can read more
HERE
. Let's just say that I don't believe in Santa anymore.
After that...
experience
with Ol' Kringle, we decided we should probably head home but then decided it would suite us better to grab just one more cocktail.
Who knows about those defining words? Just. one. more. If is ever just one more? Not if you're these two bad bishes. :)
We had a blast. I loved every minute of Miss Sabrina and I hope she feels the same! And anyone else out there who wants to come visit me? Door is always open. If you look like a psychopath, I may not open it, but if you are as pretty as Sabrina, I'll whip that bitch open with drink in hand waiting for you! And if you really want, I could possibly be naked...